The Man with Nine Lives
A popular saying in my house lately is, "It ain't my fault."
As you may have guessed, with the questionable grammar and pubescent twang of the "ignorance is bliss" declaration, "It ain't my fault," is often uttered by my two oldest kids. One who is already a teenager and one who is a hair away from being a teenager.
When questioned about their clothes littering the bathroom floor or the bowl of chalky milk in their room or a subpar test score, the first response is almost always, "It ain't my fault."
My career of teaching teenagers comforts me in knowing that this is an old, common excuse. A childlike attempt to wiggle loose from the demands of adults and parents and all mature civic and domestic duties. To live a sweet, untroubled life. Exuberantly free of all responsibility. How sophomorically perfect.
To a youthful mind it makes sense that if the dog ate my homework, then the dog should receive an F, sit on the floor, head bowed in an Owner-Teacher conference, and be forced to wag her tail through the dog days of summer school.
This week at physical therapy, I met a man who was on his second nose.
His first nose was full of cancer and had to be removed. "It was a matter of life and death. I was 38. My wife and I just had our third kid. I was too young to die. Now I'm 75 and hell, I'm still too young to die."
He told me how the doctors used some of his ear cartilage to make his new nose. "I've gotten used to it. I mean, it's not perfect, it's more of a speed bump than a nose. But, hey I'm alive."
He pointed to the brace on my knee and said, "You're too young to have knee problems."
I explained how I have a brain disease and I lost my balance at my son's soccer practice and my knee buckled and something popped and I fell.
He said he's been in and out of physical therapy for most of his adult life. "Little did I know, the nose was just the start. I've had both knees and a hip replaced. And a few years ago I was in a bad car accident. A drunk driver almost hit me head-on. Broke my neck. If I didn't swerve I'd be dead. My wife always says I have nine lives."
The man looked at me with soft, brown eyes. Eyes ripe with will. Eyes pulped with life.
"I always say I'm just not done driving her crazy yet."
The man and I laughed.
As I endured the monotony of physical therapy–leg raises, leg extension, leg curls–I thought about the man with nine lives and his imperfect nose. I didn't get his name but having been in and out of physical therapy for most of his adult life it's clear his brown eyes understand an old truth: he's responsible for living.
Dogs eat homework. Diseases happen. Car accidents happen. Shit happens.
However, in life, we're responsible for experiences that aren't our fault all the time. And accepting responsibility for our problems is the first critical step to solving them.

The man with nine lives proved that accepting responsibility for your life teaches us how to leverage our pain into empowerment, how to transform our suffering into strength, how to see our troubles as opportunities for growth.
As I write this letter to you, a pair of my son's sneakers lay sideways in the middle of the living room and I think about how a lot of people, my kids included, skirt responsibility because they believe claiming responsibility for your problems is to admit fault for your problems. Yes, though "it ain't my fault" is a convenient excuse it stunts our potential. And our potential hinges on the realization that we're responsible for everything we do in life.
That includes properly putting our shoes away.
Be well,
Jay
Greetings to everyone who found me on the University of Pennsylvania's Ataxia Clinic's website! Thanks for stopping by. Though I'm not a doctor, I hope my words comfort, encourage, empower, and serve as good company on your journey.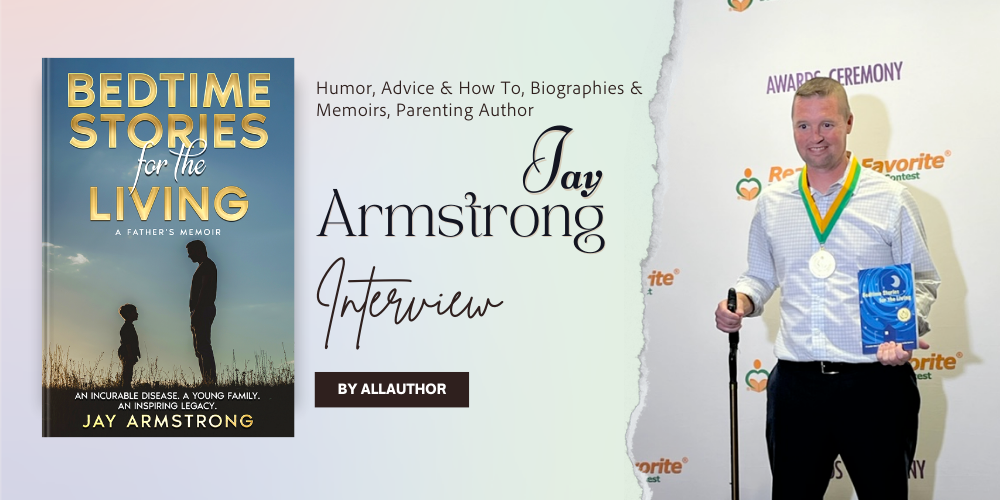 A writer, speaker, former high school English teacher, and award-winning author, Jay Armstrong always enjoyed making people feel something. He was also a stand-up comedian. Ever since he was a child he wanted to write a book. His memoir, Bedtime Stories for the Living won first place in the non-fiction/parenting category of the International Readers' book contest. He enjoys reading, writing, and exercising. Read full interview…
April Book Promos for You:
Are looking for inspiration? Are you searching for a better version of yourself?
This month I joined literary forces with some best-selling authors in two awesome book promotions. Click the link below:
LINK: Change Your Mind, Change Your Life
You miss 100% of the shots you don't take…
A few months ago, with low expectations, I took a shot and entered "Bedtime Stories for the Living" in the highly regarded, highly competitive international book contest presented by Readers' Favorite. Readers' Favorite is an established force in the publishing industry. They have worked with Penguin Random House, Simon & Schuster, and Harper Collins, and have received the "Best Websites for Authors" and "Honoring Excellence" awards from the Association of Independent Authors.
Anyway, just before I was about to take a midday nap, I was informed that this suburban dad had won…
First Prize, the Gold Medal, in the Non-Fiction/Parenting genre!

Here's what I'm currently reading: A Man Called Ove by Fredrik Backman
If you like this post, you may also like:
~
~
~~
Jay Armstrong is a speaker and an award-winning author. Despite being diagnosed with a rare neurological disease, that impairs his movement, balance, eyesight, and speech–Jay presses on. The leader of the Philadelphia Ataxia Support Group, he hopes to help you find joy, peace, and meaning in life.
For Jay, a good day consists of 5 things:
1. Reading
2. Writing
3. Exercising
4. Hearing his three children laugh
5. Hugging his wife
(Bonus points for a dinner with his parents or a drink with his friends)
Jay hasn't had a bad day in quite a long time.
You can also visit Jay at jayarmstrongwrites.com