23 Ways to Stop Time
This week, I celebrate my 43rd birthday.
I'll celebrate with a morning walk with Maggie May, physical therapy, watch some Opening Day baseball from the comfort of my couch, lunch with my parents, and a quick dinner with Cindy and the kids before transforming into a severely underpaid Uber driver, crisscrossing the Philadelphia suburbs to meet the demands of youth soccer, baseball, and volleyball practices.
To most 23 year olds, 43 seemed impossible.
I'm sure I celebrated my 23rd birthday with some cheap light beer, some video games, and stayed awake well past 10:30 p.m. And now, 20 years later, I no longer drink alcohol or play video games and staying awake past 10:30 p.m. verges on pure insanity.
As I told you last week, age and aging have been on the old bean lately. Getting old never felt so personal before. But this aging stuff has become undeniably real. I mean, it's really happening to me. So I have to ask: At what age do realize that decades pass like days? And at what age do you start feeling anxious about getting older? And what age do you realize being cool takes too much effort? And at what age do you finally have the confidence to say what you really think? And at what age are you finally prepared to take risks? And at what age do you recognize the time to figure out who you are is fleeting? And at what age do you realize much of life's happiness hinges on your willingness to roll up your sleeves and simply participate?
Also, isn't this the age of technology? Isn't there a phone app or a streaming service that would, for a small monthly fee, stop time for us? Since we're all at time's mercy, wouldn't it make sense for Apple or Elon Musk to create a digital sword to ward off our greatest enemy?
But the laws of nature and physics and Albert Einstein and Marty McFly and The Alan Parson's Project have all taught us that time, like a flowing river, is impossible to stop. And time, being the most fundamental force in the universe, deserves pondering. Time lets everything exist and change and allows us to appreciate the stunning brevity of everything.
Though lately I've felt those dreaded pangs of time, I realize I can't spend my current time mourning the fact that time is passing. I've learned aging, like my incurable brain disease, is a present opportunity to discover new truths about myself. To be open to the opportunities that life, like a reverse mortgage infomercial, is offering. And as I age, being proactive about how I spend my time is the only way to stop time– even if it includes being an unpaid Uber driver.
23 Ways to Stop Time:
1.Hug someone you love.
2.Take a walk.
3.Listen to your favorite song on repeat.
4. Volunteer your time to others.
5.Stand with your eyes closed in the sunlight.
6. Remember, in fine details, a time you laughed so hard it hurt.
7.Take a risk.
8.Ask questions.
9.Talk to someone about something you're both passionate about.
10.Learn something new.
11. Read a good book.
12. Take notice of something you never noticed before.
13. Listen.
14. Make someone you love laugh.
15. Turn off your phone.
16. Exercise.
17. Stop trying to fix the world.
18. Practice acceptance.
19. Accept a new challenge.
20. Learn a new skill.
21. Take pictures.
22. Practice patience.
23. Acknowledge when you're happy.
Be well,
Jay
Greetings to everyone who found me on the University of Pennsylvania's Ataxia Clinic's website! Thanks for stopping by. Though I'm not a doctor, I hope my words comfort, encourage, empower, and serve as good company on your journey.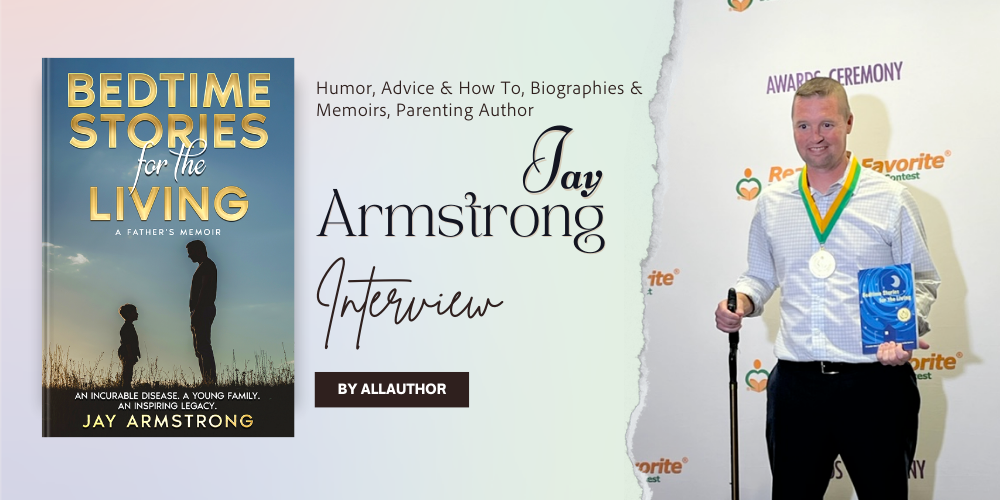 A writer, speaker, former high school English teacher, and award-winning author, Jay Armstrong always enjoyed making people feel something. He was also a stand-up comedian. Ever since he was a child he wanted to write a book. His memoir, Bedtime Stories for the Living won first place in the non-fiction/parenting category of the International Readers' book contest. He enjoys reading, writing, and exercising. Read full interview…
April Book Promos for You:
Are looking for inspiration? Are you searching for a better version of yourself?
This month I joined literary forces with some best-selling authors in two awesome book promotions. Click the link below:
LINK: Spring into Action! Start the Life You Dreamed
You miss 100% of the shots you don't take…
A few months ago, with low expectations, I took a shot and entered "Bedtime Stories for the Living" in the highly regarded, highly competitive international book contest presented by Readers' Favorite. Readers' Favorite is an established force in the publishing industry. They have worked with Penguin Random House, Simon & Schuster, and Harper Collins, and have received the "Best Websites for Authors" and "Honoring Excellence" awards from the Association of Independent Authors.
Anyway, just before I was about to take a midday nap, I was informed that this suburban dad had won…
First Prize, the Gold Medal, in the Non-Fiction/Parenting genre!

Here's what I'm currently reading: A Man Called Ove by Fredrik Backman
If you like this post, you may also like:
~
~
~~
Jay Armstrong is a speaker and an award-winning author. Despite being diagnosed with a rare neurological disease, that impairs his movement, balance, eyesight, and speech–Jay presses on. The leader of the Philadelphia Ataxia Support Group, he hopes to help you find joy, peace, and meaning in life.
For Jay, a good day consists of 5 things:
1. Reading
2. Writing
3. Exercising
4. Hearing his three children laugh
5. Hugging his wife
(Bonus points for a dinner with his parents or a drink with his friends)
Jay hasn't had a bad day in quite a long time.
You can also visit Jay at jayarmstrongwrites.com