It Takes a Village to Stay Alive
This week I had my semi-annual appointment with my neurologist.
The same neurologist who, almost ten years ago, scanned my very first brain MRI, cleared his throat, and politely said, "You should be dead or in a hospital bed."
During the most recent appointment he looked into my living eyes, leaned back in his chair, crossed his legs and asked, "Ten years living with this disease. How's your mental health?"
Cindy and my mom were in the neurologist's office with me. They quietly sat waiting for an answer. I could feel their eyes on me. Though they sat across the room, I could feel the press of their hands on my shoulders.
I've come to understand that we can't do life alone. And when life chooses to hurt us, only people can heal us. People offer us the communion we cannot offer ourselves.
"Well, living with this disease is not easy. I do go through some tough times. Wishing things were different. Wishing there was a cure. But I'm just thankful I'm not going through this alone. I have a great support system I often lean on."
Call it irony or the Fates of the Laundry Cycle, but the day after my appointment, I wore a gray t shirt with the word "Donauschwaben" in green letters across the chest. A shirt I bought to support the German soccer club my son plays for. A shirt I've been wearing for months. And, for all I knew, Donaushwaben was the German word for a "saggy butt with ears."
After a quick Google search, I happily discovered Donaushwaben is the name for a collection of Germanic tribes who developed strong communities rich in traditional German customs and traditions in eastern Europe during the 18th century. However, during World War II, the Nazi regime saw them as a political threat and began sending them to concentration camps. The Donaus fled persecution and settled throughout the US and South America.
The point of this brief history lesson was to acknowledge I was wearing a shirt that displayed the name of a long-standing community which understood staying together was absolutely necessary for emotional shelter and physical survival. In fact, history is surefire proof that humans require villages, tribes, communities, support groups, teams, clubs, friends, and families for our collective sustainability.
Later, while I was Googling "german insults", I somehow discovered a 2010 article published in the National Library of Medicine that examined 148 studies on how social relationships influence mortality rates. The paper concluded good relationships keep us happier and healthier. The paper also explained having someone to rely on, helps your nervous system relax, helps your brain stay healthier for longer, and reduces both emotional as well as physical pain.
As I inch towards a decade living with an incurable disease, it is my relationships, my support system that have gifted me the courage and love to face my troubles with grace and dignity and a klein amount of humor.
Though our relationship may only consist of you receiving a weekly letter in your inbox, the simple act of opening and reading of my letters has fused our lives together. By accepting a piece of me, you have empowered all of me. You have made my brave when I questioned my bravery. You have encouraged me to go on. You are an important member of my support system.
And for that– Danke.
I hope my letters have done the same for you.
Because people and their willingness to love and share and unite is how you and I and everyone who has ever lived has managed to stay alive.
Be well,
Jay
Greetings to everyone who found me on the University of Pennsylvania's Ataxia Clinic's website! Thanks for stopping by. Though I'm not a doctor, I hope my words comfort, encourage, empower, and serve as good company on your journey.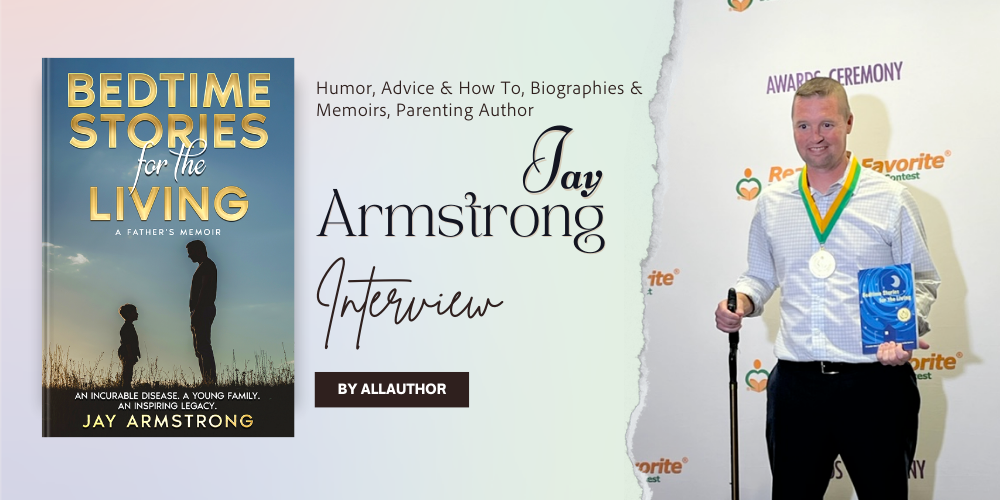 A writer, speaker, former high school English teacher, and award-winning author, Jay Armstrong always enjoyed making people feel something. He was also a stand-up comedian. Ever since he was a child he wanted to write a book. His memoir, Bedtime Stories for the Living won first place in the non-fiction/parenting category of the International Readers' book contest. He enjoys reading, writing, and exercising. Read full interview…
April Book Promos for You:
Are looking for inspiration? Are you searching for a better version of yourself?
This month I joined literary forces with some best-selling authors in two awesome book promotions. Click the link below:
LINK: Change Your Mind, Change Your Life
You miss 100% of the shots you don't take…
A few months ago, with low expectations, I took a shot and entered "Bedtime Stories for the Living" in the highly regarded, highly competitive international book contest presented by Readers' Favorite. Readers' Favorite is an established force in the publishing industry. They have worked with Penguin Random House, Simon & Schuster, and Harper Collins, and have received the "Best Websites for Authors" and "Honoring Excellence" awards from the Association of Independent Authors.
Anyway, just before I was about to take a midday nap, I was informed that this suburban dad had won…
First Prize, the Gold Medal, in the Non-Fiction/Parenting genre!

Here's what I'm currently reading: A Man Called Ove by Fredrik Backman
If you like this post, you may also like:
~
~
~~
Jay Armstrong is a speaker and an award-winning author. Despite being diagnosed with a rare neurological disease, that impairs his movement, balance, eyesight, and speech–Jay presses on. The leader of the Philadelphia Ataxia Support Group, he hopes to help you find joy, peace, and meaning in life.
For Jay, a good day consists of 5 things:
1. Reading
2. Writing
3. Exercising
4. Hearing his three children laugh
5. Hugging his wife
(Bonus points for a dinner with his parents or a drink with his friends)
Jay hasn't had a bad day in quite a long time.
You can also visit Jay at jayarmstrongwrites.com