The One Thing We Need to be Happy
Chase came home from school and told me his class was going to begin reading The Outsiders this week.
If you're a product of the American education system, you probably read, The Outsiders by S.E Hinton. Or at least pretended to or skimmed the Cliff Notes or watched the movie.
Set in the 1960's, it's the classic story of a rowdy gang of poor ruffians, the Greasers, who are social outcasts, fight other gangs of wealthier, well-dressed kids, and develop a motley support system to help endure the angst of being social outsiders.
Later that night, I avoided cleaning dinner dishes by watching an interview with a Harvard professor, Robert Waldinger, explained that an 85 year study on human happiness conducted by the university revealed: people who seek, find, and invest in healthy, positive relationships live longer and are simply happier.
Co-written by Waldinger and Marc Schulz, a clinical psychologist at Bryn Mawr College, the recently-published, "The Good Life: Lessons from the World's Longest Scientific Study of Happiness explains that nothing impacts us more than the strength and health of our relationships with other people. Good relationships are bedrock for a good life. Our relationships are among our most valuable tools for sustaining health and happiness and choosing to invest time and energy in them today becomes vitally important for how we live tomorrow.
Between you and me, sometimes I feel like an outsider. Minus the leather jacket and greasy hair, of course. But I'm a relatively young, retired man with a rare brain disease that affects 1 in 100,000 people. A disease that has made me terribly self-conscious of how I walk and talk. A disease that often convinces me that I'm doomed for a life of loneliness and disconnection. A disease that makes me feel like I'm surrounded by 99,999 strangers.
Even though you might not have a brain disease, have you ever felt this way? Like no one understands you? Like you're just different and unrelatable? Like you doomed for a life of isolation and disconnection?
These are questions and feelings that have been gnawing at me lately.
And even though my Philadelphia Eagles are playing in the Super Bowl this Sunday, life is not always a celebratory affair. We get hurt. We suffer. We entertain confusion and doubt. We convince ourselves that we're doomed to suffer alone.
A very special person in my life recently taught me a simple, yet life-changing lesson: We need each other.
Only relationships provide us the energy and resilience to endure life.
Only relationships push us to explore new strengths and find new abilities in ourselves.
Only relationships enable us to reach our potential.
The Harvard study and The Outsiders are essentially saying the same thing: we can't do this alone. We must develop a support system of healthy relationships to help us traverse life. And our happiness hinges on our willingness to cultivate these relationships.

As I stood over the sink washing dishes Chase asked, "Did you read The Outsiders when you were in school?"
"Yes, I did."
"Why do schools keep teaching that book?
"Well, not only is it a good book but it also teaches you that people aren't that different. We all want the same thing. We just want to find people that make us feel like we belong."
"Oh."
I turned off the water, put three cups in the dishwasher, closed the dishwasher and thought about how reading a book and relationships are similar. Both require investments of time, patience, and effort. Three things the modern, Cliff-Note world is often reluctant to give.
After I draped the sky blue wash cloth across the silver spout, turned off the kitchen lights, my curious son asked, "So, can I learn all that from just watching the movie?"
Be well,
Jay
PS: Happy Valentine's Day
PSS: Go Birds!
Checkout my interview with All Author where I talk about the writing process and being hounded for autographs at the food store.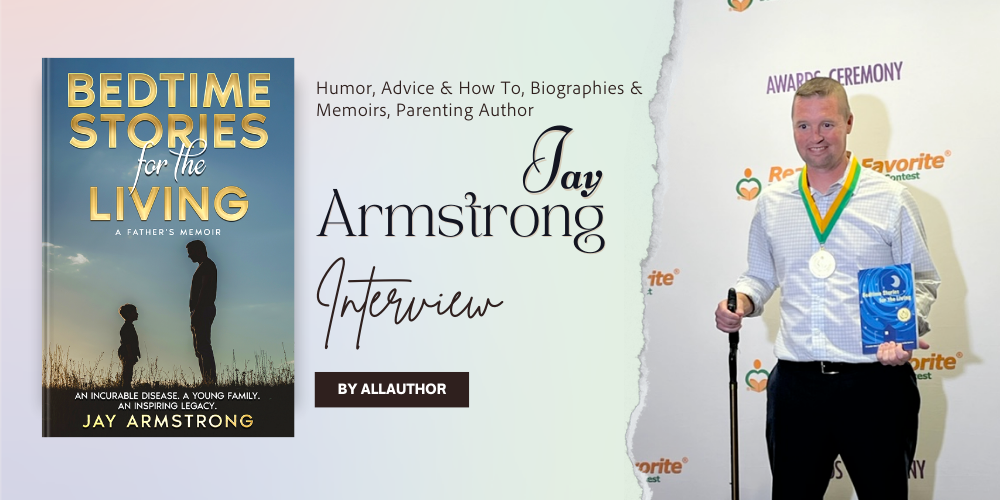 A writer, speaker, former high school English teacher, and award-winning author, Jay Armstrong always enjoyed making people feel something. He was also a stand-up comedian. Ever since he was a child he wanted to write a book. His memoir, Bedtime Stories for the Living won first place in the non-fiction/parenting category of the International Readers' book contest. He enjoys reading, writing, and exercising. Read full interview…
February Book Promos for You:
Are looking for inspiration? Are you searching for a better version of yourself? This month I joined literary forces with some best-selling authors to promote our books in Change Your Mind. Grow Your Relationship.
You miss 100% of the shots you don't take…
A few months ago, with low expectations, I took a shot and entered "Bedtime Stories for the Living" in the highly regarded, highly competitive international book contest presented by Readers' Favorite. Readers' Favorite is an established force in the publishing industry. They have worked withPenguin Random House, Simon & Schuster, and Harper Collins, and have received the "Best Websites for Authors" and "Honoring Excellence" awards from the Association of Independent Authors.
Anyway, just before I was about to take a midday nap, I was informed that this suburban dad had won…
First Prize, the Gold Medal, in the Non-Fiction/Parenting genre!

~~
Are you a reader? Looking for your next good book to read or listen to? Check out my new page "Jay's Book Shelf" for some book recommendations.
If you like this post, you may also like:
~
~
~~
Jay Armstrong is a speaker and an award-winning author. Despite being diagnosed with a rare neurological disease, that impairs his movement, balance, eyesight, and speech–Jay presses on. The leader of the Philadelphia Ataxia Support Group, he hopes to help you find joy, peace, and meaning in life. For Jay, a good day consists of 5 things:
1. Reading
2. Writing
3. Exercising
4. Hearing his three children laugh
5. Hugging his wife
(Bonus points for a dinner with his parents or a drink with his friends)
Jay hasn't had a bad day in quite a long time.
You can also visit Jay at jayarmstrongwrites.com