I've Never Seen A Wild Thing Feel Sorry for Itself
On Tuesday evening, at my son's soccer practice, I lost my balance, my right knee buckled, something inside popped, and I fell.
Using Clark Able's help, I pulled myself to my feet, took two soft steps, and fell again.
I wish I could artfully articulate my emotions for you, but all my overpriced education is allowing my to find right now is, "this fucking sucks."
As I sit in a quiet house, with my knee elevated and wrapped in a bag of ice, I desperately want to feel sorry for myself.
I have an incurable brain disease, isn't that enough? Don't I deserve a break? I try to be a decent person , so why do bad things happen to me? Don't I deserve a life with less pain and suffering?
I mean, isn't it human nature to wallow in self-pity? Right? Please tell me I'm right.
I know it drives Cindy crazy that our living room end table is always scattered with books. These books often rotate with others on my bookshelf. They are books that, on a specific day and for a specific reason are waiting to be leafed through. They are there because they offer me comfort and insight and motivation. There are currently 7 books on the end table. One book being, The Year of Magical Thinking, a memoir by Joan Didion.
If you're not familiar, it's Didion's brilliant attempt to make sense of the sudden yet separate deaths of her husband and daughter in the same year. Didion writes," In time of trouble, I had been trained since childhood, read, learn, work it up, go to the literature." Like Didion, with my overpriced college degree and my years teaching literature to high school students I often do the same.
Before I began this letter to you I read DH Lawrence's short poem, "Self -Pity":

I never saw a wild thing
sorry for itself.
A small bird will drop frozen dead from a bough
without ever having felt sorry for itself.
A few days before something important in my leg popped, I received an email, without a subject, from a Michigan woman stricken with Stage 4 pancreatic cancer. She said she enjoyed my writing, thanked me for being positive, and for giving her something to think about. She concluded her email with a quote she recently tacked up in her kitchen: "If we all threw our problems in a pile and saw everyone's, we'd grab ours back."
The bag of ice on my knee has turned to water now and I begrudgingly admit self-pity is not a useful reaction to my situation. Self-pity only creates more self-pity. As much as I don't want to, I know I need to turn to gratitude in moments like this.
Maybe we choose self-pity as a form of self-protection and self-preservation. Maybe self-pity is simply a way of avoiding acceptance. Maybe self-pity is the manifestation of our insecurities.
However, in the end, self-pity only makes us weaker, more isolated and as DH Lawrence might say, more domesticated.
So this week, to beat back self-pity, to be a "wild thing", I made a list of things my swollen knee and I are grateful for. Because there's nothing self-pity hates more than a well-crafted, wide-ranging gratitude list.
An email from Michigan without a subject.
Four hours of The Office.
A wet doggy nose on my unshaven cheek followed by an unsolicited doggy kiss.
Games of the World Baseball Classic starting at 6 am and at 10:30 pm.
Family members who help.
Friends who check in.
Warm cinnamon cake.
Health insurance.
Health care.
Ice and a refrigerator with an automatic ice maker and dispenser.
Pillows.
Orange juice.
My kids telling me they love me before leaving the house for school.
The way the morning sunlight slants across the living room floor.
Urinal bottles.
A comfortable couch.
Having some of the finest books ever written like Slaughter-House Five, A Year of Magical Thinking, and Born Standing Up by Steve Martin on my living room end table.
The ability to create music playlists that nudge me towards feeling better.
That scene in Rocky, when on the eve of his fight with Apollo Creed, Rocky admits to Adrienne he doesn't care about defeating Apollo, he just wants to go the distance.
This…
Writing to you.
DH Lawrence.
Dad jokes.
Spell check.
My overpriced education.
Be well,
Jay
Greetings to everyone who found me on the University of Pennsylvania's Ataxia Clinic's website! Thanks for stopping by. Though I'm not a doctor, I hope my words comfort, encourage, empower, and serve as good company on your journey.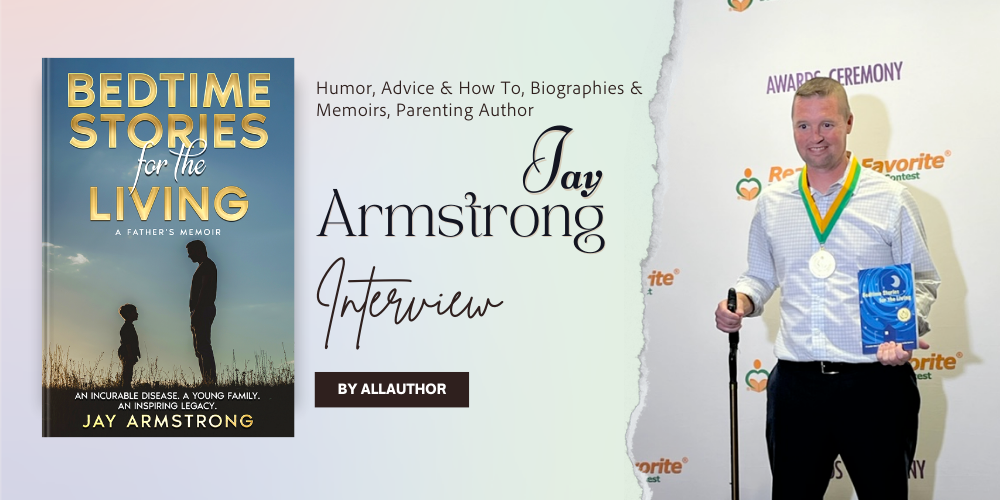 A writer, speaker, former high school English teacher, and award-winning author, Jay Armstrong always enjoyed making people feel something. He was also a stand-up comedian. Ever since he was a child he wanted to write a book. His memoir, Bedtime Stories for the Living won first place in the non-fiction/parenting category of the International Readers' book contest. He enjoys reading, writing, and exercising. Read full interview…
March Book Promos for You:
Are looking for inspiration? Are you searching for a better version of yourself?
This month I joined literary forces with some best-selling authors in two awesome book promotions. Click the link below:
LINK: Finding Freedom, Building Your Best Life
INK: Well-Being, Connection, Self Improvement, and Personal Growth
LINK: Spring into Action! Start the Life You Dreamed
You miss 100% of the shots you don't take…
A few months ago, with low expectations, I took a shot and entered "Bedtime Stories for the Living" in the highly regarded, highly competitive international book contest presented by Readers' Favorite. Readers' Favorite is an established force in the publishing industry. They have worked with Penguin Random House, Simon & Schuster, and Harper Collins, and have received the "Best Websites for Authors" and "Honoring Excellence" awards from the Association of Independent Authors.
Anyway, just before I was about to take a midday nap, I was informed that this suburban dad had won…
First Prize, the Gold Medal, in the Non-Fiction/Parenting genre!

Here's what I'm currently reading: The Good Life by Robert Waldinger, MD and Marc Shultz, PhD
If you like this post, you may also like:
~
~
~~
Jay Armstrong is a speaker and an award-winning author. Despite being diagnosed with a rare neurological disease, that impairs his movement, balance, eyesight, and speech–Jay presses on. The leader of the Philadelphia Ataxia Support Group, he hopes to help you find joy, peace, and meaning in life.
For Jay, a good day consists of 5 things:
1. Reading
2. Writing
3. Exercising
4. Hearing his three children laugh
5. Hugging his wife
(Bonus points for a dinner with his parents or a drink with his friends)
Jay hasn't had a bad day in quite a long time.
You can also visit Jay at jayarmstrongwrites.com