An Excerpt from My New Book
A few months ago I told you I was working on a new book about everyday resilience.
And then I had an illuminating conversation with my editor who flicked a switch and the proverbial lightbulb flashed.
He suggested maybe I was putting the cart before the horse. That if resilience is a character trait, maybe I first had to explore the idea of character.
So I began to ask: What is character? Is our character a strand of DNA? A product of our environment? Or is character built? And if so, how does a person build character? Does adversity really build character? Does ordinary, everyday life provide enough chances for us to build character, so when troubles come, we have a strong enough character to deal with it?
I stuffed these new questions in my jacket pocket, took Maggie for a few walks around suburbia, and realized for years I've been telling my kids, students, and athletes I coached, that adversity builds character. But does it? Did I believe what I was saying? Or was this just another example of an authority figure shoveling empty advice?
Adults love to give advice. Yet much of adulthood is spent trying hard not to be a hypocrite. I'm certain adults deeply desire to be authentic, advice-givers. But to do this correctly, to avoid being a fraud, we have to courageously explore that hard, rugged, and often dark internal landscape. The one rutted with questions and doubts and uncertainties.
In this week's letter, I want to share with you some excerpts from my new book. A book that is sitting on the cutting room floor awaiting those pesky finishing touches. A book that, if all goes according to plan, will be released in November 2023. A book that may serve as a compass and a light. And a book that forced me to do something very uncomfortable, very adult: consider my own advice.
The Preface of "It Builds Character: A Father Considers His Own Advice"
It builds character: A phrase often used by parents, coaches, and various authority figures to confirm to their subjects that enduring unpleasant experiences is necessary for becoming a more emotionally resilient person.
It: Pronoun. This word substitutes a noun or a noun phrase.
Example: After the blizzard passed, the father looked lovingly at his children and informed them shoveling snow builds character.
Also see: "What doesn't kill you makes you stronger," "Toughen up buttercup," and "Should I call the whambulance for you?"
An Excerpt from the Introduction of "It Builds Character: A Father Considers His Own Advice"
I don't want to live with this disease.
Yet, I love myself. And not in a conceited, cringeworthy Instagram way. I mean, I want a life filled with love and ease and cold beer and BBQ ribs. And even if you don't like beer and ribs, I would assume you would want the other things for yourself.
However, there's something else you should know about me – my disease sometimes makes me wish I was somebody else. Somebody who has more impressive credentials. Somebody who welcomes challenges. Is a master problem solver. Or is a craftsman of fine human character.
My disease is my it.
Patients with rare diseases often fear judgment and are so scared to be alienated we often struggle to communicate our thoughts and feelings. We internalize everything. We're afraid of being marginalized. We're often ashamed of being ourselves. We often fail to remember that our discomfort builds character.
As I assembled my walker, I thought about how throughout my time as a teacher, a coach, and a parent I have preached that adversity builds character. How hard times toughen us. Make us more resilient.
But now I was literally in the uncomfortable position of sitting on the living room floor, forced to consider my own advice.
You may have picked up this book because you recognize me from the local food store or because you're curious about building character. Maybe a sudden tragedy struck. A death. A disease. An accident. A difficult experience that rocked your core.
Maybe you're wondering if it builds character. Maybe you're considering avoiding it. Maybe you're afraid of it.
The good news is, you're a part of the human race. And humans have never been and will never be short on it. No matter their credentials, humans are the most resilient animals to ever wear Levi's. We have been dealing with it since saber-tooth tigers were a problem. Yet somehow we have always found a way, day-in and day-out, to deal with it. Whether it is big or small, our innate resilience is really extraordinary. Maybe our most extraordinary quality.
I want to reassure you that even though we might not like it, we're built to deal with it. And that your it builds character.
I hope this book, written by a regular, suburban dad afraid of it but forced to deal with it, comforts you and helps you face and overcome your it.
Be well,
Jay
Greetings to everyone who found me on the University of Pennsylvania's Ataxia Clinic's website! Thanks for stopping by. Though I'm not a doctor, I hope my words comfort, encourage, empower, and serve as good company on your journey.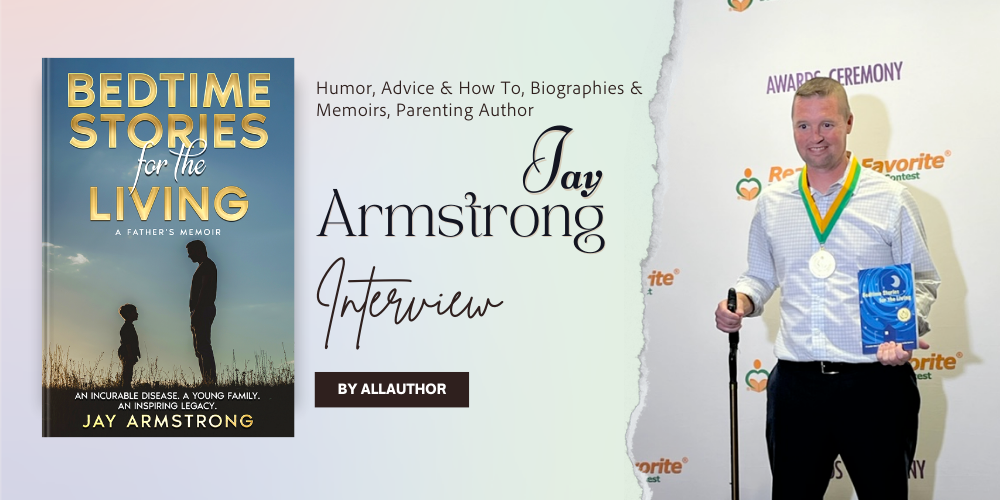 A writer, speaker, former high school English teacher, and award-winning author, Jay Armstrong always enjoyed making people feel something. He was also a stand-up comedian. Ever since he was a child he wanted to write a book. His memoir, Bedtime Stories for the Living won first place in the non-fiction/parenting category of the International Readers' book contest. He enjoys reading, writing, and exercising. Read full interview…
April Book Promos for You:
Are looking for inspiration? Are you searching for a better version of yourself?
This month I joined literary forces with some best-selling authors in two awesome book promotions. Click the link below:
LINK: Change Your Mind, Change Your Life
You miss 100% of the shots you don't take…
A few months ago, with low expectations, I took a shot and entered "Bedtime Stories for the Living" in the highly regarded, highly competitive international book contest presented by Readers' Favorite. Readers' Favorite is an established force in the publishing industry. They have worked with Penguin Random House, Simon & Schuster, and Harper Collins, and have received the "Best Websites for Authors" and "Honoring Excellence" awards from the Association of Independent Authors.
Anyway, just before I was about to take a midday nap, I was informed that this suburban dad had won…
First Prize, the Gold Medal, in the Non-Fiction/Parenting genre!

Here's what I'm currently reading: A Man Called Ove by Fredrik Backman
If you like this post, you may also like:
~
~
~~
Jay Armstrong is a speaker and an award-winning author. Despite being diagnosed with a rare neurological disease, that impairs his movement, balance, eyesight, and speech–Jay presses on. The leader of the Philadelphia Ataxia Support Group, he hopes to help you find joy, peace, and meaning in life.
For Jay, a good day consists of 5 things:
1. Reading
2. Writing
3. Exercising
4. Hearing his three children laugh
5. Hugging his wife
(Bonus points for a dinner with his parents or a drink with his friends)
Jay hasn't had a bad day in quite a long time.
You can also visit Jay at jayarmstrongwrites.com