Warning: An Old Man Rambles
Ten days before my 43rd birthday a whippersnapper of an orthopedic doctor sporting a pair of out-of-the-box white Nike sneakers and a shiny black Apple wrist watch just below the hem of his white lab coat, examined my right knee, looked at his laptop screen, and said, "If you did tear your ACL, you're too old to have that kind of surgery anyway."
"Really? " I was slightly confused, "I mean I had ACL reconstruction on both knees. My right knee when I was 19 years old. And my left knee when I was 21 years old," I said.
"How old are you?"
"I'll be 43 next week."
"And what activities is the knee injury preventing you from doing?"
"Well," I thought for a second, "walking my dog."
He raised his well-groomed eyebrows, sighed, "Like I said, I think you're too old to have that kind of surgery again."
Now, I wasn't offended by the young doctor's remark. I respect his honesty. He didn't want to have to go through the surgical trouble of opening up my knee to find a joint of dust bunnies.
Maybe it was a combination of the doctor's comment, my recent knee injury, the fact I recently started reading A Man Called Ove (a brilliant novel about a 59 year old curmudgeon attempting to live a meaningful life after his wife has died), and with my approaching birthday but this week I can't seem to ignore the question I've been sucking on longer than a Wether's Original: Am I getting old?
At 43 years old, some would say, "No." Compared to some I'm just a pup.
But the obvious answer is yes. I mean, with every passing second, all of us humans are getting older. And to steal from last week's letter, aging might just be the ultimate "it is what it is" cliché.
If aging well requires adopting a healthy diet, exercising regularly, visiting a doctor, getting enough sleep, always having a coat available in case it gets chilly, and displaying unbridled excitement for scoring a good parking spot then aging unwell requires only one thing: denial.
My health issues (and apparently now my age) have taught me that denial is the smoothest road to misery. Yes, it can be difficult to accept that time is passing, human anatomy is frail, and that life is relentlessly changing however acceptance provides us the perspective and resilience required to keep us young.
If denial and snowboarding are brash, youthful activities. Then acceptance, like golf, requires discipline, patience, and quiet resolve.
I've heard old people love to reminisce about the good old days…one of my favorite memories from my teaching career was spending class periods analyzing Springsteen's Thunder Road.
In a room full of spry 17 year olds, Springsteen was identified as an old musician from New Jersey who made "dad music" and wore "dad jeans."
As I teased out the lyrics, I frequently circled the class back to the idea of aging:
So you're scared and you're thinking
That maybe we ain't that young anymore
I explained Thunder Road is about the urgency of now and how, without warning, old age roars upon us. Like thunder. And today, they're closer to adulthood than childhood. Most of my students just blinked and eyed the clock. They didn't understand the scary truth of the song. Or the clock. But maybe age and time are not meant to be understood. Rather, like rock n' roll, are meant to be felt deep in the soul.
When you're 17 years old, you're momentarily invincible, and then, a young doctor sneakers into your life and informs you that you're too old to have surgery. And then, as you shuffle to your car that's waiting in a prime, close-to-the-entrance parking spot you're proud of, the good old days thunder and a raspy, New Jersey voice suggests you ain't that young anymore. And you wonder if you're wearing dad jeans. And why restaurants are so noisy. And why sometimes you call your kids by the wrong name. And sometimes you have to pee right after you have just peed. And then you suspect the good old days, like a good song, are over too soon. And then you sit in your car thinking about how you're suddenly too old for fixing.
Maybe we can appreciate that age only burdens the living. Maybe we should remember those good old days fondly. Glad to have experienced them. Maybe, with a cane and a smile, we should march fearlessly into the future. Excited we get to experience it.
And maybe today you'll take comfort in the ache of an old man's ramblings.
Be well,
Jay
Greetings to everyone who found me on the University of Pennsylvania's Ataxia Clinic's website! Thanks for stopping by. Though I'm not a doctor, I hope my words comfort, encourage, empower, and serve as good company on your journey.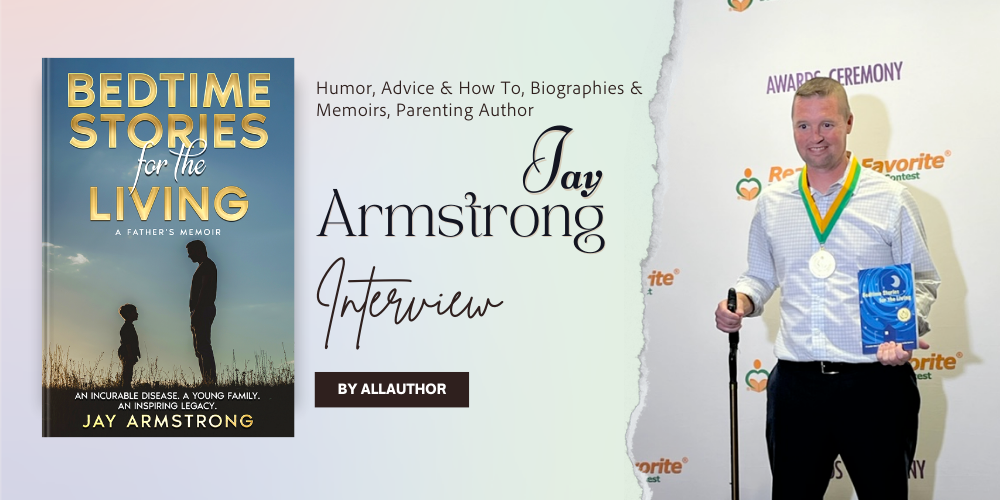 A writer, speaker, former high school English teacher, and award-winning author, Jay Armstrong always enjoyed making people feel something. He was also a stand-up comedian. Ever since he was a child he wanted to write a book. His memoir, Bedtime Stories for the Living won first place in the non-fiction/parenting category of the International Readers' book contest. He enjoys reading, writing, and exercising. Read full interview…
March Book Promos for You:
Are looking for inspiration? Are you searching for a better version of yourself?
This month I joined literary forces with some best-selling authors in two awesome book promotions. Click the link below:
LINK: Finding Freedom, Building Your Best Life
INK: Well-Being, Connection, Self Improvement, and Personal Growth
LINK: Spring into Action! Start the Life You Dreamed
You miss 100% of the shots you don't take…
A few months ago, with low expectations, I took a shot and entered "Bedtime Stories for the Living" in the highly regarded, highly competitive international book contest presented by Readers' Favorite. Readers' Favorite is an established force in the publishing industry. They have worked with Penguin Random House, Simon & Schuster, and Harper Collins, and have received the "Best Websites for Authors" and "Honoring Excellence" awards from the Association of Independent Authors.
Anyway, just before I was about to take a midday nap, I was informed that this suburban dad had won…
First Prize, the Gold Medal, in the Non-Fiction/Parenting genre!

Here's what I'm currently reading: A Man Called Ove by Fredrik Backman
If you like this post, you may also like:
~
~
~~
Jay Armstrong is a speaker and an award-winning author. Despite being diagnosed with a rare neurological disease, that impairs his movement, balance, eyesight, and speech–Jay presses on. The leader of the Philadelphia Ataxia Support Group, he hopes to help you find joy, peace, and meaning in life.
For Jay, a good day consists of 5 things:
1. Reading
2. Writing
3. Exercising
4. Hearing his three children laugh
5. Hugging his wife
(Bonus points for a dinner with his parents or a drink with his friends)
Jay hasn't had a bad day in quite a long time.
You can also visit Jay at jayarmstrongwrites.com