It Is What It Is
Last week when I saw a young orthopedic doctor about my knee injury I relied on a familiar cliché'/idiom that first appeared in a 1949 journal describing the barren Nebraska landscape to rationalize said injury.
"Was this your first fall?"
I laughed, "I wish."
"Do you fall a lot?"
"Yeah," I laughed again, "pretty regularly."
She nodded her head. "Sorry to hear." She read something on her laptop screen, typed a note, and turned to me, "I have to ask, why are you laughing?"
"I mean, I've fallen down stairs, through a mirror, through drywall, on hardwood floors, concrete sidewalks, and blacktop driveways. I even have fallen– get this–up a moving escalator. However, this time I fell on grass. Probably the softest surface I've ever fallen on."
The doctor shook her head and typed again on her laptop. "Well, the good thing is that you keep getting up," she said.
I smiled, "I guess."
The doctor directed me to the tan examination table whose sanitary paper crinkled when I pulled myself on to it.
As I laid on the table she asked, "So, when were you diagnosed with cerebellar atrophy?"
"2013."
She flexed my right knee toward my chest, "Does that hurt?"
"A little."
She straightened my leg, "Does this hurt?'
"A little."
"Well, without an MRI, it's difficult to make a clear diagnosis. It could be a knee ligament. Maybe your ACL, PCL, or LCL. Or maybe it's a quadricep strain.
I looked at my knee and then at the doctor. "Well, I guess it is what it is."
She smiled, "You're right. It is what it is."
I found an internet crumb suggesting Shakespeare invented the phrase, "it is what it is." I'm aware the Bard invented such enduring phrases as "in a pickle" and "wear my heart on my sleeve," but my suspicion rose when the internet also suggested he invented, "Don't go there, girlfriend."
Further investigation found journalist JE Lawrence is credited for first using the phrase, "it is what it is," when he wrote in the Nebraska State Journal:
"New land is harsh, and vigorous, and sturdy. It scorns evidence of weakness. There is nothing of sham or hypocrisy in it. It is what it is, without an apology."
I think learning to accept the truth is the foundation of happiness. And between us, since 2013, I've been struggling with the, "it is what it is" acceptance of my disease. In fact, I've learned that acceptance is not a one-time event. Acceptance is a daily prayer.
As an owner of an overpriced Bachelor's of English degree, I tend to cringe when I hear or, in a moment of vernacular vulnerability, use a cliché myself.
However, I'll admit, I kind of like "It is what it is."
It encourages an acceptance of reality instead of deluding ourselves with false hopes, far-fetched dreams, and promises of change. By accepting the truth, we can find ways to adapt and use our lemons to make lemonade.
Of course, "it is what it is" can be taken with a grain of salt. Or, to make a long story short, "it is what it is" can become a dangerous mentality. At the drop of a hat, we give up, grow complacent, and surrender to the notion that you have zero say in what happens to you. The thought that we don't have control over what happens to us in our lives is both terrifying and mostly untrue. "It is what it is," is a verbal shortcut that, if believed, is cowardly. It skirts personal accountability for what has happened and what needs to be done. Yes, we may have no control over the weather or traffic or other people's actions or the past. However, I'll stop beating around the bush and hit the nail on the head–no matter what, we do have complete say in how we react to these circumstances and the actions we take in response.
Ok, this is getting out of hand. A good writer wouldn't be caught dead littering their lexicon with so many overused and pedestrian phrases.
Maybe I went a little overboard with the idioms. I'm sorry. But like life, a paragraph wrought with idioms feels cheap and uninspired. In order to create the original life you want and deserve; you first must accept what is and, in spite of what is, do two brave things: accept and act.
If you can do those things, you will produce a life others might consider the bee's knees.
Be well,
Jay
Greetings to everyone who found me on the University of Pennsylvania's Ataxia Clinic's website! Thanks for stopping by. Though I'm not a doctor, I hope my words comfort, encourage, empower, and serve as good company on your journey.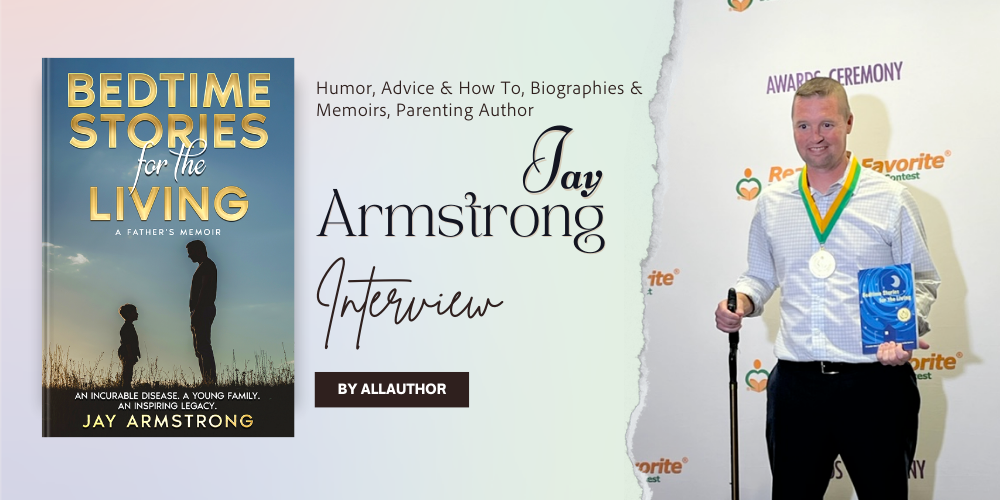 A writer, speaker, former high school English teacher, and award-winning author, Jay Armstrong always enjoyed making people feel something. He was also a stand-up comedian. Ever since he was a child he wanted to write a book. His memoir, Bedtime Stories for the Living won first place in the non-fiction/parenting category of the International Readers' book contest. He enjoys reading, writing, and exercising. Read full interview…
March Book Promos for You:
Are looking for inspiration? Are you searching for a better version of yourself?
This month I joined literary forces with some best-selling authors in two awesome book promotions. Click the link below:
LINK: Finding Freedom, Building Your Best Life
INK: Well-Being, Connection, Self Improvement, and Personal Growth
LINK: Spring into Action! Start the Life You Dreamed
You miss 100% of the shots you don't take…
A few months ago, with low expectations, I took a shot and entered "Bedtime Stories for the Living" in the highly regarded, highly competitive international book contest presented by Readers' Favorite. Readers' Favorite is an established force in the publishing industry. They have worked with Penguin Random House, Simon & Schuster, and Harper Collins, and have received the "Best Websites for Authors" and "Honoring Excellence" awards from the Association of Independent Authors.
Anyway, just before I was about to take a midday nap, I was informed that this suburban dad had won…
First Prize, the Gold Medal, in the Non-Fiction/Parenting genre!

Here's what I'm currently reading: The Good Life by Robert Waldinger, MD and Marc Shultz, PhD
If you like this post, you may also like:
~
~
~~
Jay Armstrong is a speaker and an award-winning author. Despite being diagnosed with a rare neurological disease, that impairs his movement, balance, eyesight, and speech–Jay presses on. The leader of the Philadelphia Ataxia Support Group, he hopes to help you find joy, peace, and meaning in life.
For Jay, a good day consists of 5 things:
1. Reading
2. Writing
3. Exercising
4. Hearing his three children laugh
5. Hugging his wife
(Bonus points for a dinner with his parents or a drink with his friends)
Jay hasn't had a bad day in quite a long time.
You can also visit Jay at jayarmstrongwrites.com