Russian Literature, Fantasy Baseball, and Self-Deception
A few weeks ago, my smart friend proposed that we should read "The Brothers Karamazov" by Fyodor Dostoevsky. One of the most dense, most challenging yet soul-filling novels in all of literature. My smart friend suggested we could hold each other accountable. Motivate each other. Discuss. Ruminate. Philosophize.
"Kind of like the reading buddy I had in seventh grade when the class was assigned "The Outsiders." My teacher called it a reading adventure." I said.
"Sure, something like that. So, what do you think? " my smart friend asked.
Even though I was intrigued, I mean I would love to brag to you about having read a massive, 19th century Russian novel, however I told my smart friend the timing wasn't great for sinking my teeth into 840 rigorous pages of Russian literature. I explained I was intensely preparing for my fantasy baseball league and I didn't have the mental capacity to balance the intellectual demands of a player's batting average and obscure Russian allusions. Thanks for thinking about me. But maybe some other time.
Of course, my smart friend found a reading buddy. An old college housemate who now works in Sweden as a biochemist. They meet on Zoom once a week and talk about the book over tumblers shallowed with fine single-malt scotch.
"Oh, sounds cool." I said.
"It is. You should have joined."
"I know. But with fantasy baseball, you know…"
"Well, I hope you have a good team."
"I think I do. My offense is solid. I just have to watch my pitchers. Pitchers can be a bit erratic. Just curious, so what's the book about?"
"Well, though I still have a few hundred pages left, my friend and I were just talking about how we think the book is about self-deception. How humans are extremely vulnerable. How they fail to take personal responsibility. How they often believe the lies they invent about themselves. About the world."
"Interesting," I said. I felt kind of—well, dumb in the shadow of my smart friend's vocabulary. "So do you think self-deception is still a problem?" I asked.
"Absolutely. Maybe more now than ever. Our modern electric culture, which often crutches on self-deception proliferated by social media, has a same problem that hindered 19th century Russians. And they lived mostly by candle light," my smart friend asserted with expert-like authority.
Could I have buddied with my smart friend on his reading adventure? Of course. Why did I justify my excuse with fantasy baseball? Because I'm human and it's in my DNA to deceive myself.
We believe our lies and limitations all the time. And in doing so, we self-justify, we distort the truth about ourselves and others to make ourselves feel good.
One downside of having an incurable brain disease is that I'm constantly turning questions like, "Can I do this?" or "Am I seeing this situation truthfully?' or "Am I contributing to my problems more than I'd like to admit?" But an incurable brain disease is not a requirement to ponder these questions. Sometimes we convince ourselves something is true. And other times we fool ourselves to think something isn't true when it is.
Sure, like fantasy baseball, self-deception allows us to allude reality. But sooner or later, we have to face such reality and admit the truth. We can learn how to recognize self-deception by simply pausing and asking yourself, "What does my reaction say about me?"
Because if we don't, self-deception will likely keep fueling unsatisfying habits or feeding excuses that hinder your ability to grow, live a positive life, and experience all of the adventures Russian literature has to offer.
Be well,
Jay
Greetings to everyone who found me on the University of Pennsylvania's Ataxia Clinic's website! Thanks for stopping by. Though I'm not a doctor, I hope my words comfort, encourage, empower, and serve as good company on your journey.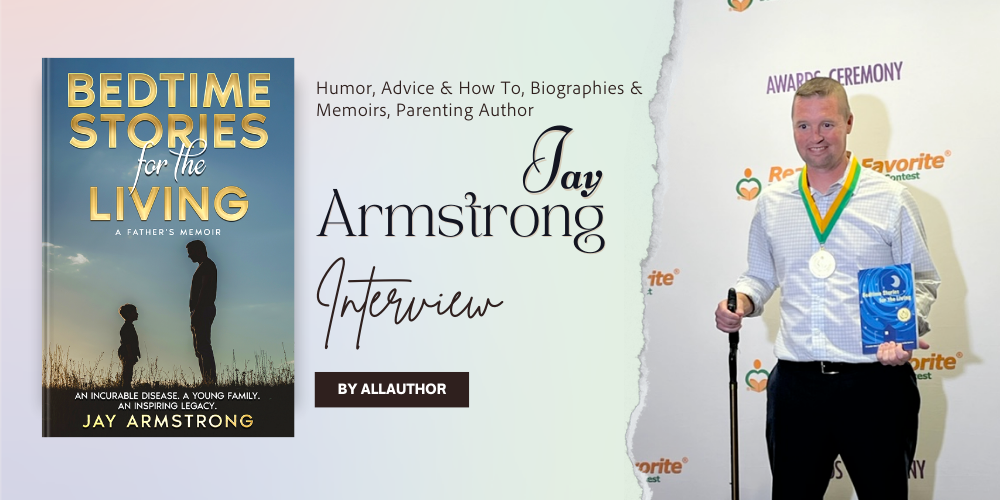 A writer, speaker, former high school English teacher, and award-winning author, Jay Armstrong always enjoyed making people feel something. He was also a stand-up comedian. Ever since he was a child he wanted to write a book. His memoir, Bedtime Stories for the Living won first place in the non-fiction/parenting category of the International Readers' book contest. He enjoys reading, writing, and exercising. Read full interview…
April Book Promos for You:
Are looking for inspiration? Are you searching for a better version of yourself?
This month I joined literary forces with some best-selling authors in two awesome book promotions. Click the link below:
LINK: Change Your Mind, Change Your Life
You miss 100% of the shots you don't take…
A few months ago, with low expectations, I took a shot and entered "Bedtime Stories for the Living" in the highly regarded, highly competitive international book contest presented by Readers' Favorite. Readers' Favorite is an established force in the publishing industry. They have worked with Penguin Random House, Simon & Schuster, and Harper Collins, and have received the "Best Websites for Authors" and "Honoring Excellence" awards from the Association of Independent Authors.
Anyway, just before I was about to take a midday nap, I was informed that this suburban dad had won…
First Prize, the Gold Medal, in the Non-Fiction/Parenting genre!

Here's what I'm currently reading: A Man Called Ove by Fredrik Backman
If you like this post, you may also like:
~
~
~~
Jay Armstrong is a speaker and an award-winning author. Despite being diagnosed with a rare neurological disease, that impairs his movement, balance, eyesight, and speech–Jay presses on. The leader of the Philadelphia Ataxia Support Group, he hopes to help you find joy, peace, and meaning in life.
For Jay, a good day consists of 5 things:
1. Reading
2. Writing
3. Exercising
4. Hearing his three children laugh
5. Hugging his wife
(Bonus points for a dinner with his parents or a drink with his friends)
Jay hasn't had a bad day in quite a long time.
You can also visit Jay at jayarmstrongwrites.com