The Power of Naming Things
His name is Ray.
He's six-years-old, has a brown bowl haircut from 1985, sports blue jeans with an elastic waistband, a plain gold t-shirt, and a pair of faded-gray Velcro sneakers. Ray enjoys Cheerios with milk, jumping on one foot, counting to ten, and beginning sentences with, "The day before yesterday…".
I'm really excited to tell you this week that The University of Pennsylvania's Ataxia Clinic announced they would begin promoting my blog on their website. A website visited by thousands of people from all over the world.
But before I could finish reading UPenn's email Ray began to stir.
Ray lives in a warm little place between my heart and my stomach. And like most six-year-olds, he's often impulsive and readily demands attention.
Ray grows jealous whenever I'm awarded, granted, or given an opportunity to reach new people with my writing. He fears I will no longer pay him mind. So in these moments, he often announces his presence by jumping up and down in my chest and tugging at important strings inside.
In the writing arena, Ray is my "inner critic." He wants to distract me, challenge me, and prevent me from devoting attention to my work.
In other arenas, we might call him a "Big Dumb Jerk Face."
Writer or not, every one has a "Big Dumb Jerk Face" who lives inside. The "BDJF" demands attention, instigates doubt, and threatens our self-efficacy. He's been known to sabotage relationships, prevent us from fulfilling our potential, and sadly, dash hopes and dreams.
Popular psychology refers to this as the "internal critical voice." This concept is similar to the Freudian "superego" as to create an inner critic that attacks the individual like a cruel kindergartner and shouts things like: "This is stupid." "How boring." "Can we do something else?" "It's never going to work." The inner critic causes internal chaos in us and whips up feelings of shame, low self-esteem, and worthlessness all before the Cheerios get soggy.
Like any six-year-old, Ray is curious.
He has explored the boundaries of my being and discovered that something inside is wrong. That the messages sent from my brain to my limbs often go undelivered. He knows that sometimes my voice is strained. That coordinating my breathing often takes effort. That anytime I move I risk falling. He knows walking up or down stairs is difficult. He knows I get dizzy. He knows that I need naps. He knows I frequently question my courage and self-worth.
Underneath Ray's precariousness, is a bighearted six-year-old who is simply trying to protect me. He doesn't want me to hurt. He loves me.
I named my inner critic, Ray, because I've found that humanizing the things that scare you make them less scary. Like my cane, Clark Able or my walker, Sir Johnny Walker. And naming something, especially something you fear, provides you with a sense of control and power.
When we name things, those things often become valuable extensions of our selves. Not only do we feel closer to things we name, but maybe we name our things in order to feel closer to them. Whether it's our cane or our inner critic–willfully building a relationship and inviting characters in to our lives changes our life.
As a disabled writer, I fear I might be doubly vulnerable.
Everyday I wrestle with the urge to play life safe. To hide on my couch. To not project my voice into the world. To sit still and be silent for the rest of my days.
Like my disease, Ray demands my daily attention. "Look at me," he might say. And I look at him. I watch him jump on one foot and count to ten. He does this because he wants to stop me before I even venture a risk. Before I choose to ignore him and focus on myself. Before I decide to commit the present day to telling the world my story.
Be well,
Jay
Greetings to everyone who found me on the University of Pennsylvania's Ataxia Clinic's website! Thanks for stopping by. Though I'm not a doctor, I hope my words comfort, encourage, empower, and serve as good company on your journey.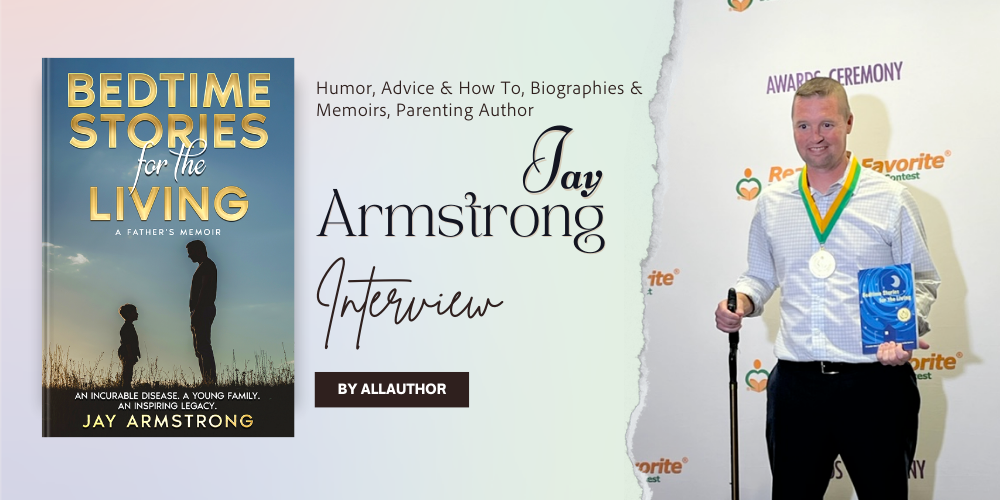 A writer, speaker, former high school English teacher, and award-winning author, Jay Armstrong always enjoyed making people feel something. He was also a stand-up comedian. Ever since he was a child he wanted to write a book. His memoir, Bedtime Stories for the Living won first place in the non-fiction/parenting category of the International Readers' book contest. He enjoys reading, writing, and exercising. Read full interview…
March Book Promos for You:
Are looking for inspiration? Are you searching for a better version of yourself?
This month I joined literary forces with some best-selling authors in two awesome book promotions. Click the link below:
LINK: Finding Freedom, Building Your Best Life
You miss 100% of the shots you don't take…
A few months ago, with low expectations, I took a shot and entered "Bedtime Stories for the Living" in the highly regarded, highly competitive international book contest presented by Readers' Favorite. Readers' Favorite is an established force in the publishing industry. They have worked with Penguin Random House, Simon & Schuster, and Harper Collins, and have received the "Best Websites for Authors" and "Honoring Excellence" awards from the Association of Independent Authors.
Anyway, just before I was about to take a midday nap, I was informed that this suburban dad had won…
First Prize, the Gold Medal, in the Non-Fiction/Parenting genre!

Here's what I'm currently reading: The Good Life by Robert Waldinger, MD and Marc Shultz, PhD
If you like this post, you may also like:
~
~
~~
Jay Armstrong is a speaker and an award-winning author. Despite being diagnosed with a rare neurological disease, that impairs his movement, balance, eyesight, and speech–Jay presses on. The leader of the Philadelphia Ataxia Support Group, he hopes to help you find joy, peace, and meaning in life.
For Jay, a good day consists of 5 things:
1. Reading
2. Writing
3. Exercising
4. Hearing his three children laugh
5. Hugging his wife
(Bonus points for a dinner with his parents or a drink with his friends)
Jay hasn't had a bad day in quite a long time.
You can also visit Jay at jayarmstrongwrites.com