A List of Things I Learned this Week
A lot happened this week.
My Philadelphia Eagles advanced to the Super Bowl. Maggie May celebrated her second birthday. My editor and I began working on my new book. One of my adorable children shattered a house window with a soccer ball (see below). And my disease thought it would be fun to (a) have me choke on my saliva (a common and sexy symptom of cerebellar atrophy) for a few hours late one night and (b) have me emotionally fall into a January gloom as I spent valuable time thinking about all the things wrong in my life.
I tried writing a concise letter to you about all those things but it was simply not working. The more I wrote to you, the more confusing and directionless the letter became, and the more I strained my literary tact the more frustrated I became.
Years ago I was taking a writing class at a local community college. The teacher was a meek, old woman who told us on the first day of class how she resigned from serving as a catholic nun so she could write romance novels with half naked men on the cover.
She often talked about how the struggle to write is simply a result of trying too hard.
"Simplify," she would say. "Less is more," she would say. And then she would hold up one of her books featuring a shirtless, muscular man on the cover and repeat, "Less is more."
Anyway, this week I need to tell you a few things. But I need to tell you these things in a simple way. Because these letters to you help me better understand myself.
So in this letter there will not be a well-paced narrative. Or celestial imagery. Or witty dialogue. Or figurative language. Or cute wordplay. No, I just want to share with you a simple list of things I learned this week. I hope this list nudges you to create your own list. Because I find, lists help to organize thoughts. Lists give structure. Provide clarity. And like a romance novel cover, lists are lean and easy-on-the-eyes.
1.The only inability worth losing sleep over is the inability to love.
2.Unlike some religions or politics, sports are played in inclusive arenas.
3.Hope is weakened by hoping. Hope is only strengthened by doing.
4.Kids are easily broken by their mistakes. The good news is that most of their mistakes are fixable.
5.Developing resilience is a personal choice that requires personal attention.
6.It's dangerous to live in the past or the future any longer than it takes to drink a bottle of beer or a cup of coffee in the present.
7.Being present is more important than being heard.
8.People can be idiots. Accept this and you'll be happier.
9.Resiliency is learning to balance the positive and negative emotions.

10.Acceptance is a daily practice.

11.Our choices expose our values.

12.More than happiness, we really just want to be comfortable.

13.Accountability is the first step when dealing with adversity.
14.Dogs aren't concerned with your problems. They just want you to take them for a walk. Take a damn walk.
15.Don't focus on all that went wrong. Focus on all that went right.
16.Taking action, physically doing something, is the first step of an emotional reset.
17.There's a tendency not give our best efforts to the people who love us because we assume they will love us no matter our efforts. But the truth is, the people who love us need, and deserve, our best efforts.

Be well,
Jay
Checkout my interview with All Author where I talk about the writing process and being hounded for autographs at the food store.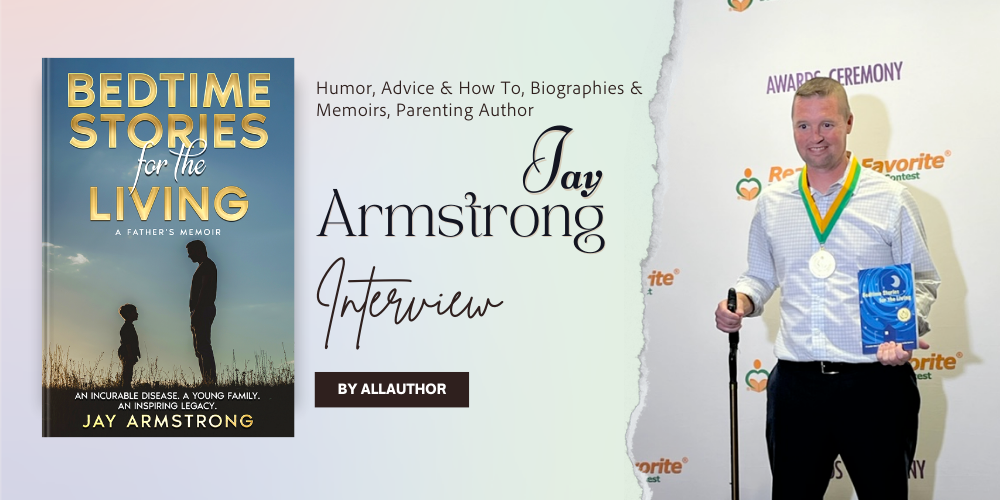 A writer, speaker, former high school English teacher, and award-winning author, Jay Armstrong always enjoyed making people feel something. He was also a stand-up comedian. Ever since he was a child he wanted to write a book. His memoir, Bedtime Stories for the Living won first place in the non-fiction/parenting category of the International Readers' book contest. He enjoys reading, writing, and exercising. Read full interview…
February Book Promos for You:
Are looking for inspiration? Are you searching for a better version of yourself? This month I joined literary forces with some best-selling authors to promote our books in Change Your Mind. Grow Your Relationship.
You miss 100% of the shots you don't take…
A few months ago, with low expectations, I took a shot and entered "Bedtime Stories for the Living" in the highly regarded, highly competitive international book contest presented by Readers' Favorite. Readers' Favorite is an established force in the publishing industry. They have worked withPenguin Random House, Simon & Schuster, and Harper Collins, and have received the "Best Websites for Authors" and "Honoring Excellence" awards from the Association of Independent Authors.
Anyway, just before I was about to take a midday nap, I was informed that this suburban dad had won…
First Prize, the Gold Medal, in the Non-Fiction/Parenting genre!

~~
Are you a reader? Looking for your next good book to read or listen to? Check out my new page "Jay's Book Shelf" for some book recommendations.
If you like this post, you may also like:
~
~
~~
Jay Armstrong is a speaker and an award-winning author. Despite being diagnosed with a rare neurological disease, that impairs his movement, balance, eyesight, and speech–Jay presses on. The leader of the Philadelphia Ataxia Support Group, he hopes to help you find joy, peace, and meaning in life. For Jay, a good day consists of 5 things:
1. Reading
2. Writing
3. Exercising
4. Hearing his three children laugh
5. Hugging his wife
(Bonus points for a dinner with his parents or a drink with his friends)
Jay hasn't had a bad day in quite a long time.
You can also visit Jay at jayarmstrongwrites.com