The Last Walk
As I mentioned last week, my well-respected American insurance company felt walking my dog was proof my progressive brain disease was improving and enough evidence to suspend my benefits.

Now, as of this letter, reinstatement is still pending. I'm trying to prove they are wrong and that walking my dog is a necessary action, like breathing and relieving oneself, for survival and is not empirical evidence my disease is improving.
Anyway, on a bright, cold January morning, as the sky swirled pink and gold, Maggie May and I took one of our contested walks.
We turned a concrete corner and found a golden retriever sniffing a tuft of grass as a man held a red leash and looked into the strokes of the painted sky. Maggie, as she does whenever she sees another dog, wagged her butt as if in a Latin nightclub and tugged hard on her leash.
"Stop Maggie," I barked.
"It's okay," the man said, "he loves dogs."
Still wagging her butt, Maggie May pulled me across the concrete dance floor to the golden retriever.
"This is Maggie May," I announced.
"Hi Maggie, this is Brady," the man said.
The dogs circled and sniffed each other.
"Maggie is going to be two-years-old next month. How old is Grady?"
"He's twelve."
The dogs backed away from each other, stared at each other, wagged their tails, and then began chasing each other in a short leashed-version of tag.
"Wow. He's got a lot of energy. Most twelve-year-old dogs don't want to play with Maggie."
"Yeah," the owner, a middle-aged man wearing a brown Carhartt jacket, faded blue jeans, and tan work boots cleared his throat, "we just found out Brady has an aggressive form of lung cancer. It's weird. I mean, he seems fine. But it's bad. This might be his last walk."
I tightened my grip on Maggie's leash.
"Man, I'm sorry."
"He's been a great dog. You know. The kind of dog that was, and still is, always happy to see you come home."
The man toed the sidewalk with his tan boot, a silver SUV streaked by, and Brady nibbled on Maggie's left ear.
"It's funny, Brady could still play all day if you let him."
I watched the dogs playfully tussle and didn't say anything. Because sometimes, there's nothing you can say. Small talk seems small when considering the bigness of forever. I shifted my weight, bit my bottom lip, and held life by the leash. This felt like one of those times.
"Come on Brady, time to go." The owner looked at me with a pair of wet gray eyes and said, "Enjoy the walk."
"Yeah. You too," I replied.
Humans are the over-thinking, apex predator with opposable thumbs of the world. We wonder and mull, lose sleep and gain weight over living and dying. We complicate everything. We waste so much time thinking about how we wasted so much time. We have, and always, will struggle to learn how to make our lives meaningful.
As Maggie sniffs suburbia, and as I watch Brady and his owner walk down the street together I felt a shiver of my own mortality. I thought how Brady is unaware of his. And I wondered if Brady was better off not knowing his fate than I was knowing the fate of all living things.
From Sophocles to Springsteen, many have written profoundly about death. About the unique human predicament of living a meaningful life while knowing that life, our life, will inevitably end.
But on that cold January morning, there was something warm and comforting about Brady's trot. Something I had not gleaned from all the books I've read or songs I've listened to. Brady's legs spring with aliveness while the cancer suffocates his lungs. And even still, afoot in his master's shadow, Brady is simple and friendly and wags his tail with joyful indifference as he braves his last walk.
Be well,
Jay
Checkout my interview with All Author where I talk about the writing process and being hounded for autographs at the food store.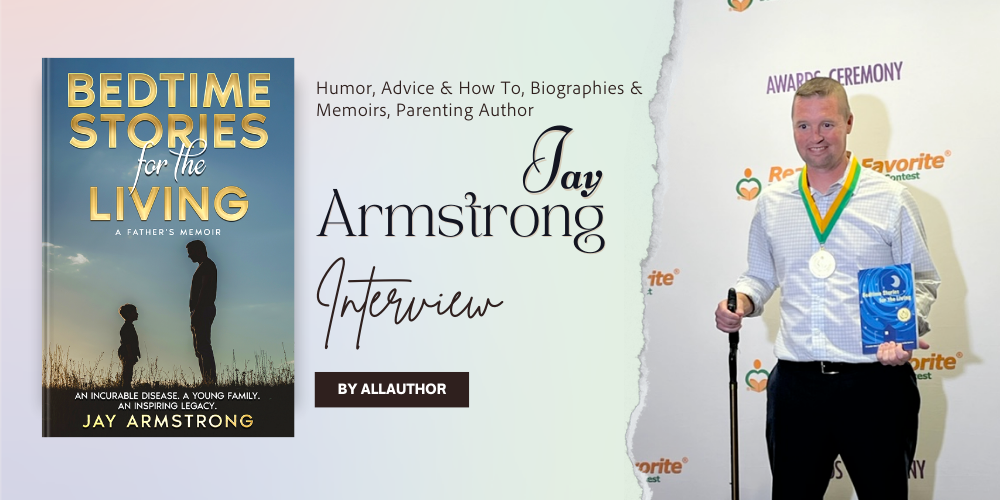 A writer, speaker, former high school English teacher, and award-winning author, Jay Armstrong always enjoyed making people feel something. He was also a stand-up comedian. Ever since he was a child he wanted to write a book. His memoir, Bedtime Stories for the Living won first place in the non-fiction/parenting category of the International Readers' book contest. He enjoys reading, writing, and exercising. Read full interview…
January Book Promos for You:
Are looking for inspiration? Are you searching for a better version of yourself? This month I joined literary forces with some best-selling authors to promote our books in Become Inspired. Become You.
Memoirs, Biographies, Self-help books…oh my! This month I also joined literary forces with some best-selling authors to promote our books in the inspiring in Nonfiction Grab Bag.
You miss 100% of the shots you don't take…
A few months ago, with low expectations, I took a shot and entered "Bedtime Stories for the Living" in the highly regarded, highly competitive international book contest presented by Readers' Favorite. Readers' Favorite is an established force in the publishing industry. They have worked withPenguin Random House, Simon & Schuster, and Harper Collins, and have received the "Best Websites for Authors" and "Honoring Excellence" awards from the Association of Independent Authors.
Anyway, just before I was about to take a midday nap, I was informed that this suburban dad had won…
First Prize, the Gold Medal, in the Non-Fiction/Parenting genre!

~~
Are you a reader? Looking for your next good book to read or listen to? Check out my new page "Jay's Book Shelf" for some book recommendations.
If you like this post, you may also like:
~
~
~
~~
Jay Armstrong is a speaker and an award-winning author. Despite being diagnosed with a rare neurological disease, that impairs his movement, balance, eyesight, and speech–Jay presses on. The leader of the Philadelphia Ataxia Support Group, he hopes to help you find joy, peace, and meaning in life. For Jay, a good day consists of 5 things:
1. Reading
2. Writing
3. Exercising
4. Hearing his three children laugh
5. Hugging his wife
(Bonus points for a dinner with his parents or a drink with his friends)
Jay hasn't had a bad day in quite a long time.
You can also visit Jay at jayarmstrongwrites.com