My hope for us in 2023
"If I can just get some momentum I can do this, " I thought to myself standing a few feet away from the front door on a painfully cold December night.
The three-inch step is all that stood between me enduring a bone-chilling wind and enjoying the insides of a warm house.
Last week, I shared with you the "Introduction" to my forthcoming book, "Roll Forward: Reflections by an Incurably Resilient Father." A collection of stories and reflections on what it means to be resilient. And how we can practice and strengthen our everyday resilience–like standing before a three-inch step.
When you have a movement disorder, a three-inch step might as well be a mountain. The thought of lifting one leg, balancing on the other and moving forward tightens my chest and steals my breath.
Can I do this? What if I fall? What if I don't make it?
There are several models in what has recently been identified as "resilience studies." One of those models, the "challenge model", indicates that taking moderate risks and experiencing daily challenges can enhance a person's ability to adapt and prepare for future challenges.
The "Challenge Model" suggests learning to overcome everyday disruptions is often a matter of momentum. And if we can build such momentum we can build an everyday resilience that unlocks further potential. Potential we didn't know we had.
During the last week of the year, when schools were closed and my daily writing schedule was at the mercy of chauffeuring kids across town, I took note of the things that gave me momentum and things that do not.
13 things that make me more resilient:

A good night's sleep.
A fine cup of morning coffee.
Doing 10 pushups.
Reading 10 pages of a good book.
Exchanging text messages with a friend.
Taking Maggie for a walk.
Listening to Thunder Road by Bruce Springsteen.
Going outside and taking a really deep breath.
Being polite to strangers.
Laughing with my children.
Feeling sunlight in my face.
Laying out my clothes for the next day before I go to bed. Even if it's a pair of stained sweatpants and an old t-shirt.
Accepting that schedules change and that adaptivity is necessary for survival.
13 things that make me less resilient:

Scrolling through social media.
Watching two or more hours of daytime TV without getting up from the couch.
Procrastinating.
Entertaining my excuses.
Self-pity.
Letting other people's reactions affect my mood.
Eating more than four chocolate chip cookies in one sitting.
Searching things like "cerebellar atrophy cures " and " cerebellar atrophy death" on the internet.
Wishing I could relive the past.
Focusing on the physical things I can no longer do.
Questioning the love that my family obviously has for me.
Believing that nobody understands me.
Feeling ungrateful.
~
I take a deep breath. The cold air stings my lungs. I raise my right leg, balance on my left, push my right forward until it mounted the three-inch concrete step and brought my left leg up alongside my right. I reach for the brass door handle, push open the door, and enter the warm house.
As I close the door, look back at the 3-inch step, and smile.
A step that might as well have been a mountain.
In 2023, we will struggle. We will become discouraged. We will question and doubt ourselves. However, though we may hesitate at first, we will create momentum. We will roll forward. We will discover that we are more courageous than we previously thought.
As winter submits to spring and as spring breaks for summer, we will think back to those times we struggled and take comfort in knowing we did something miraculous. We kept going.
So in the final hours of 2022, I look ahead with hope for us. Not naïve hope that everything will be okay. Because it won't. But a realistic hope that when the future becomes difficult we will have the strength to do the little things, to build momentum, to make us a little more resilient.
I raise my evening coffee mug to you. That your 2023 is a place of comfort and discovery and resilience. Please keep good faith and know that we are rolling forward together.
Be well,
Jay
Checkout my interview with All Author where I talk about the writing process and being hounded for autographs at the food store.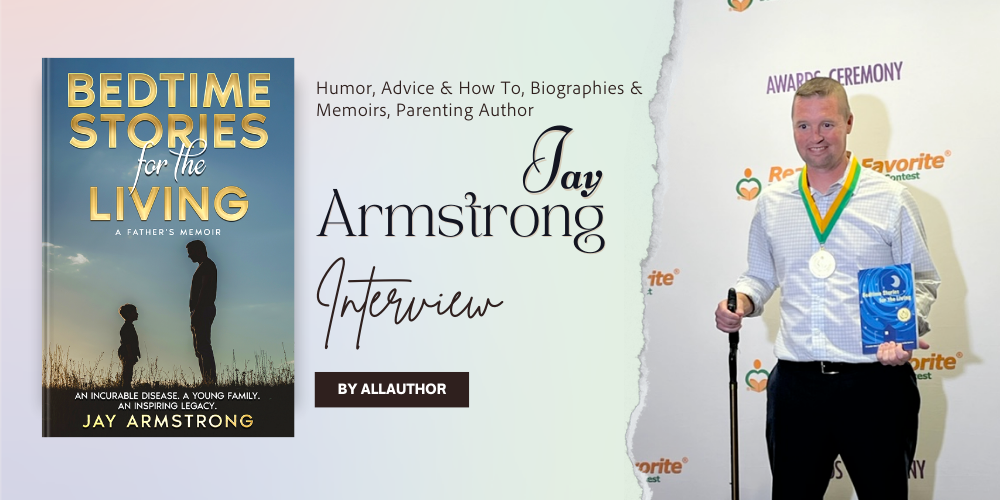 A writer, speaker, former high school English teacher, and award-winning author, Jay Armstrong always enjoyed making people feel something. He was also a stand-up comedian. Ever since he was a child he wanted to write a book. His memoir, Bedtime Stories for the Living won first place in the non-fiction/parenting category of the International Readers' book contest. He enjoys reading, writing, and exercising. Read full interview…
Quote of the Week:
December Book Promos:
Are looking for inspiration? Are you searching for a better version of yourself?
This month I joined literary forces for some best-selling authors to promote our books in, Become Inspired. Become You. 
Memoirs, Biographies, Self-help books…oh my!
This month I joined literary forces with some best-selling authors to promote our books in the inspiring December Nonfiction Collection. 
You miss 100% of the shots you don't take…
A few months ago, with low expectations, I took a shot and entered "Bedtime Stories for the Living" in the highly regarded, highly competitive international book contest presented by Readers' Favorite. Readers' Favorite is an established force in the publishing industry. They have worked withPenguin Random House, Simon & Schuster, and Harper Collins, and have received the "Best Websites for Authors" and "Honoring Excellence" awards from the Association of Independent Authors.
Anyway, just before I was about to take a midday nap, I was informed that this suburban dad had won…
First Prize, the Gold Medal, in the Non-Fiction/Parenting genre!

~~
Are you a reader? Looking for your next good book to read or listen to? Check out my new page "Jay's Book Shelf" for some book recommendations.
If you like this post, you may also like:
~
~
~
~~
Jay Armstrong is a speaker and an award-winning author. Despite being diagnosed with a rare neurological disease, that impairs his movement, balance, eyesight, and speech–Jay presses on. The leader of the Philadelphia Ataxia Support Group, he hopes to help you find joy, peace, and meaning in life. For Jay, a good day consists of 5 things:
1. Reading
2. Writing 
3. Exercising
4. Hearing his three children laugh
5. Hugging his wife
(Bonus points for a dinner with his parents or a drink with his friends)
Jay hasn't had a bad day in quite a long time. 
You can also visit Jay at jayarmstrongwrites.com